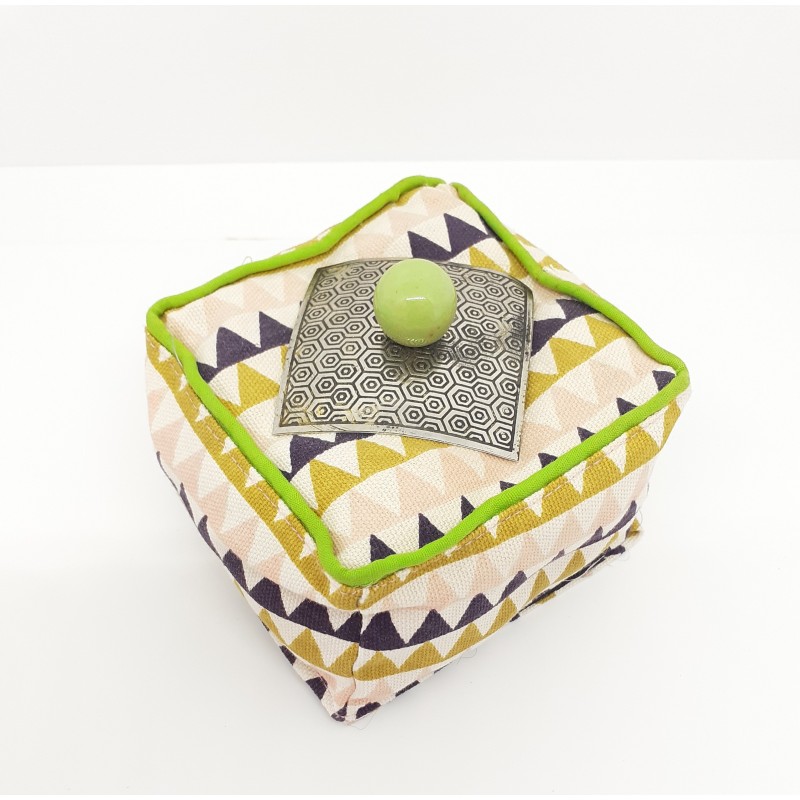  
Arty Cube Scented Purse Patchouli
PERFUME : PATCHOULI
In printed cotton, decorated with an ornament in worked silvery brass and with a ceramic pearl, this sophisticated purse contains perfumed volcanic stones.
It will artistically decorate and perfume your inside, and can also be used as a perfumed paperweight or perfumed book ends.
The purse contains an interior pouch filled with volcanic stones.
The pouch can easily be refilled by opening it and spraying some perfume on the stones. 
Lifetime : approx. 6 months
Refillable with Spray Perfume Concentrated or Home Fragrance spray Autour du Parfum
Presented in gift bag
Cube 10 cm x 10cm, height 6cm
Olfactory description :
Patchouli Borobudur
Symbolic perfume : the patchouly leaf becomes " the flower power " in the 70s, it is the first time when a plant with perfume became so strictly bound to a cultural and social movement : to a death and a birth of society. Its beautiful amber dress offers a powerful and shrouding perfume, the power of this leaf has the perfume of a wood, associated with the oakmoss, with the wood of cedar and with a departure bergamot, it becomes chypre. The fusion of a new freedom and a tradition: it is the patchouly which joins to the elegance of a chypre fragrance.