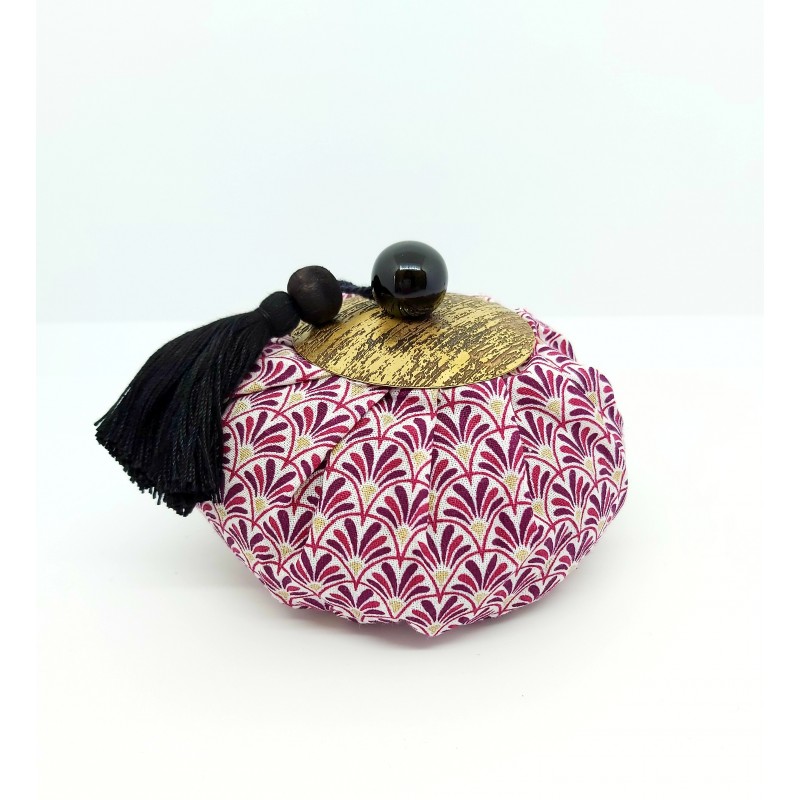  
Fans and gold Scented Purse Cuir Mandarine
PERFUME : CUIR MANDARINE
Black and gold cotton purse, decorated with an ornament in hammered brass and with a pompom, this sophisticated purse contains perfumed volcanic stones.
It will preciously decorate and perfume your home, and can also be used as a perfumed paperweight or perfumed book ends.
The purse contains an interior pouch filled with volcanic stones.
The pouch can easily be refilled by opening it and spraying some perfume on the stones.
Lifetime : 6 months
Refillable with Spray Perfume Concentrated or Home Fragrance spray Autour du Parfum

Presented in gift bag.
Diameter approx. 12 cm
Olfactory description 
Cuir mandarine
Grasse was famous in the 15th century for its leather. The fashion of fragrant leathers has gradually turned the city of tanners into the perfume capital. The scent of leather and that of innumerable perfumes so intertwined continuously.
Paired with cheerful and sparkling tangerine… leather is patinated with softness and delicacy…
Aum eventail aubergine cuir mandarine