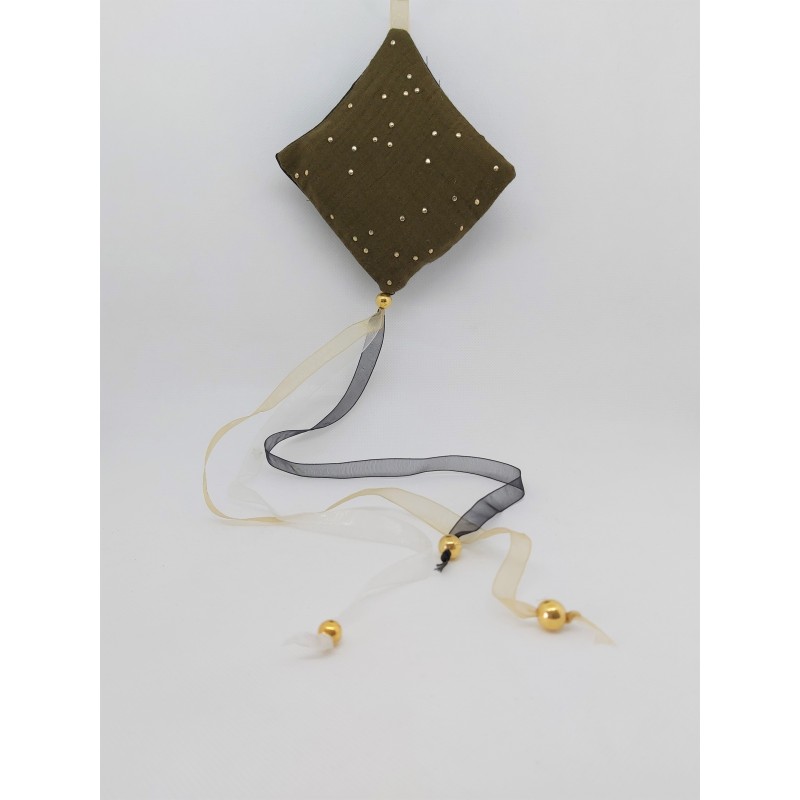  
Scented Kyte
PERFUME : PATCHOULI
In cotton and satin, this kite contains scented volcanic stones.
It hangs anywhere you want : door handles, car, radiator, dressing, wall decoration, etc. It will delicately perfume your interior.
An inner pouch filled with scented volcanic stones is contained in the kite. We can simply reload the pouch by opening it and spraying perfume on the stones again.
Lifetime : 6 months approx.
Refillable with the 15ml Perfume Concentrated or the Home Perfume Spray 100ml Autour du Parfum
10cm x 10cm- Total length 50 cm
Presented in a gift bag.
Olfactory description
Patchouli Borobudur
Symbolic perfume : the patchouly leaf becomes " the flower power " in the 70s, it is the first time when a plant with perfume became so strictly bound to a cultural and social movement : to a death and a birth of society. Its beautiful amber dress offers a powerful and shrouding perfume, the power of this leaf has the perfume of a wood, associated with the oakmoss, with the wood of cedar and with a departure bergamot, it becomes chypre. The fusion of a new freedom and a tradition: it is the patchouly which joins to the elegance of a chypre fragrance.